character
shipyard
achievements
assets
log
CMDR Andy-Prokopchuk

1,629
3,179
a_prokopchuk#8311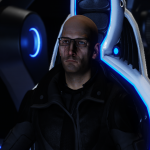 Amethyst Heir
Roleplay Gear
Gear is currently unlocked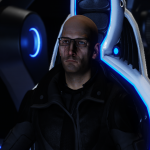 Callaghan Auto Pistol
Light Kinetic Weapon
+ Damage
This standard Callaghan sidearm is a must have for personal defense for anyone when outside of the security of installations. It is a reliable weapon that uses common types of ammunition making it simple to use and maintain. It can fire quickly and is easy to reload, though it does low damage.

x 100
(100%)
Forculus HoloCard
For the odd individual with an appreciation of the simple things, or perhaps a sense of humor, the HoloCard will surprise your friends with 3D projected confetti, music, and a video recording from you! The card itself is only a few inches wide and celebrates the otherwise uninteresting Forculus system with an animated image of its only habitable city, Irrational Exuberance.

x 3
(60%)
Bedazzling Formal Suit
This attire is a highly decorative fashion statement for formal parties and celebrities. It provides low defense and high style. It can be worn in conjunction with armor modifiers. It is popular among nobility and celebrities.
Utility Slots: 3

x 4,500
(100%)
Imperial Laser Pistol
Light Thermal Weapon
+ Damage
Every Imperial should consider the sleek design of this white coated pistol with its beautiful blue lit Heads-Up Display such as the thermal capacity indicator. It can fire quickly and never needs to reload, but it does low damage.

x 150
(100%)
Diamond Ring Memory Drive
This large diamond can hold a Yottabyte of data beamed into its structure. While not secure, the ring can easily avoid detection during espionage missions. The largest drawback of this style of memory storage is that data cannot be edited, only deleted.
[Memory Drives are required for storing data packages which can be delivered to a mission provider.]

x 250
(100%)
Wise-Sphere Companion
Universal Cartographics acquired the baseball sized Wise-Sphere design after the original corporation went under. Since then there have been numerous improvements to the Wise-Sphere companion, a floating orb designed as a simple companion to children, colonists, and explorers. The Wise-Sphere can be limited to making simple chirps and beeps but some can include a full vocabulary to go along with their simple personalities. They are not sentient but are intelligent enough to be a convincing friend.

x 500
(100%)
Hacking Extender
Classified as an armor modifier, this simple collection of finger rings and a wrist band will allow the user to relay hacking targets to any hacking system in the party. It is ideal for targets out of range or for discrete activities at functions such as dinner parties. It will go unnoticed by most individuals despite the dramatic gesture it requires to work. It can be worn in conjunction with any clothing or accessories.
[User must web their fingers out toward the intended target.]

x 50
(50%)
Knife
Light Kinetic Weapon
+ Damage
Every pilot should consider keeping a knife on hand as a last resort. This weapon can cut through flight suits and some armors with ease.

x 21
(105%)
Bio